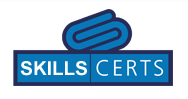 Founded in 2008, SkillsCerts specialises in the design and delivery of on-line training courses.
DLXtra is the associated technological and training partner and is dedicated to the development of on-line training programmes that will enable your people to achieve their optimum work-place potential.
SkillScerts company provides on-line training designed to the highest technological and pedagogical standards.
While SkillsCerts provide a number of their own generic courses – especially in the areas of marketing, business and customer service skills – they also work with companies and organizations that wish to avail of their expertise to web enable their existing training programmes or who wish to develop their own web delivered training programmes from scratch.